Excellent Table Mountain Platteklip Gorge Trail
EXCELLENT TABLE MOUNTAIN PLATTEKLIP GORGE TRAIL
We completed an Excellent Table Mountain Platteklip Gorge Trail and as always it was a great experience hiking Table Mountain with my V.I.P guests. Their main objective was to just have a pleasant stroll about the mountain and see what Cape Town has on offer from above the world famous Table Mountain.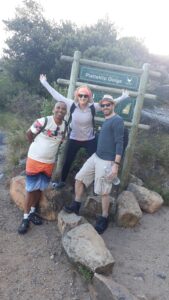 I often get many requests for the Platteklip Gorge trail as it is the most direct route to the top of Table Mountain and it is known to be the Long street of Table Mountain but with no bars and pubs although you will be blown away with the breathtaking views overlooking the Mother City Cape Town.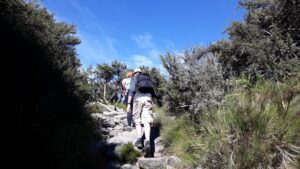 The trail starts off with great anticipation and excitement,with their interest peaking, I quickly put it all in to perspective, explaining what makes the Cape Floral kingdom so special. It's diversity beats all other Floral Kingdoms in the world with about 9000 species. Table Mountain has many micro climates and it is pretty obvious when exploring Table Mountain. One can clearly see that the East facing slopes gets more rain and with the Atlantic coastline just on the other side there are more Fynbos than Afro-montane forest, due to the Afromontane forest growing best in South East facing and East facing slopes of the Peninsula the West facing slopes of Table Mountain is a lot dryer even though there are many streams coming down from that part of Table Mountain Twelve Apostles.
You will find the path to the top meander's to where Platteklip Gorge narrows and the trail then leads into these Godly steps that tires out even the fittest of hikers but it is a known fact slow and steady is how you conquer mountains.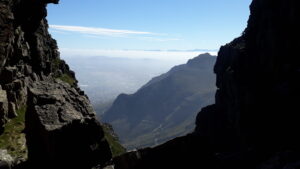 Once we reached the top of Table Mountain we took a short break before heading towards the highest point on Table Mountain called Maclear's Beacon. My guests were particularly surprised that they could see all the way to Cape Point along the Table Mountain chain.