Experience My Table Mountain Guided Adventure
Experience My Table Mountain Guided Adventure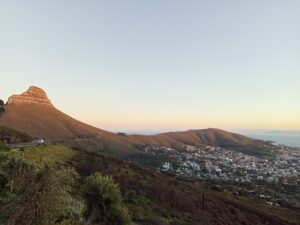 Experience my Table Mountain guided adventure. It is informative, educational and most of all great fun.
Experience my Table Mountain guided adventure kick off with great excitement it took place on the 16th October 2023, I had arrived early at the Table Mountain Platteklip Gorge trail in hopes that I might strike it lucky and get some clients that would be interested in hiring my guided services for hiking Table Mountain.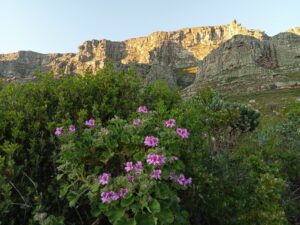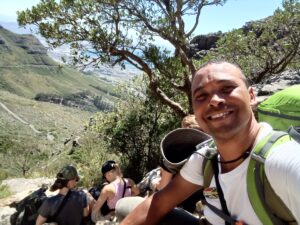 When Fabi arrived at the Table Mountain Platteklip Gorge trail I had offered my guided service but she was waiting on her 2 other friends to arrive. Fabi approached me and had a few questions, after answering her, I then offered my service for a donation. I was not letting the opportunity pass, she agreed and we waited for her friends while I kept her company. Finally Sicily and Marianne arrived, I did a quick briefing and they very quickly started to Enjoy my Table Mountain guided Adventure to tick the most Iconic landmark, Table Mountain off their bucket list.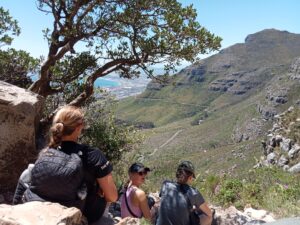 Due to the ladies late arrival they learned that hiking Table Mountain Platteklip Gorge when the sun is fully out can be more strenuous than usual. They had enough water and plenty of snacks. I was particularly chuffed with Fabi making sure everyone kept their salt and sugar levels up.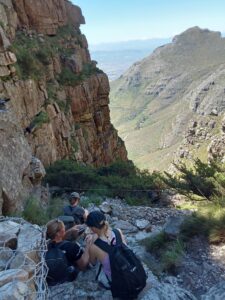 We also made some friends along they way and that's always an amazing experience, meeting new people and sharing travel stories.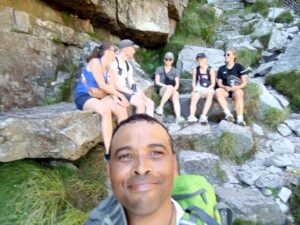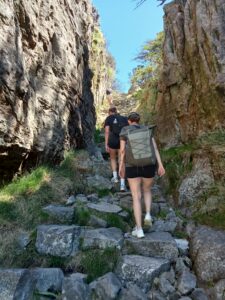 We finished in spectacular timing and I made sure to take the ladies onto the back Table where they marvelled at Table Mountain's best kept secret.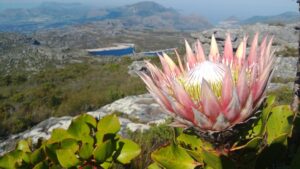 After soaking up the splendours of Mother Nature, the ladies was full of joy that they were able to tick Table Mountain off their bucket list.
We then headed for the Cable car as the ladies wished to still head to the beach and enjoy their last day visiting Cape Town South Africa before flying home.
They were very pleased with my informative guided Table Mountain Adventure and could not thank me enough for taking such good care of them. We said our good-byes and well wishes for a great life of travel ahead.