Explore the Table Mountain Dam Hike
Explore The Table Mountain Dam Hike
Exploring The Table Mountain Dam Hike is fun, easy walking, educational and memorable with a registered and experienced adventure mountain guide.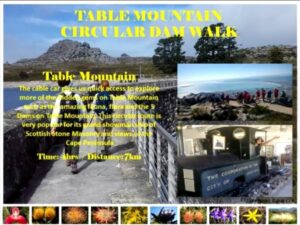 Explore The Table Mountain Dam Hike
Explore the Table Mountain Dam Hike, is a great way to explore the many unseen beauties while trekking on and around Table Mountain. Easy accessable from Constantia Nek via Jeep track or contour path and you will find this hike offers great views of the Cape Flats and Winelands area. The Fynbos is always in abundance. I always use this oppertunity to explain the structure and the abundance of diversity, guests quickly fimiliarise themselves with the top 5 Fynbos families ERICA, PROTEA, DAISY, RETIOS & GEOPHITES (BULB'S). The Path is well maintained and comes highly recommended for beginners making for a fun Educational Table Mountain hike.
Birdwatching is also big in this area from Jackal buzzards to Rock kestrel, double collard and orange breasted Sunbirds, Olive Thrush's and Cape Robin's. kids find it very amuzing how the Rock Kestrel scouts out prey and then dive bombing it before flying off with its catch of the day.
The highlight of this Table Mountain Dam Hike is the visit to the Water Works Museum and the crossing of WoodHead Dam Wall.
BOOK NOW!!!
R570.00pp 
5 & more R350.00pp 
WWW.TABLEMOUNTAIN.MY-HIKING.COM #TABLEMOUNTAIN