Cape Town Table Mountain Group Hikes
---
Cape Town Table Mountain Group Hikes
Cape Town Table Mountain Group Hikes is what I look forward to each year during winter. The enthusiasm of the groups and excitement in their voices  is obvious enough that they come together with one main objective as soon as we start conquering Table Mountain. All kinds of motivational chants are at the top of my list. I spend most of the time struggling to breath between giggles and laughter of what I've never heard before and that is what builds team moral creating bonds while connecting with Mother Nature.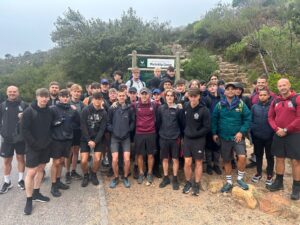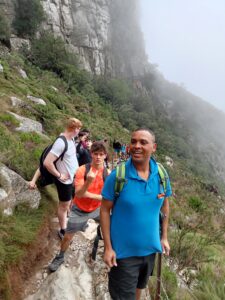 There were chuckles among the boys as we ascend Table Mountain which will be their first and my manyeth time. We quickly rallied and I soon realized the boys mean to put their coaches to the test. "Faster faster Chris, come on keep it there, it's just right, make them break a sweat" as pictured above you can see team spirit keeps these lads together #ROCKON🤟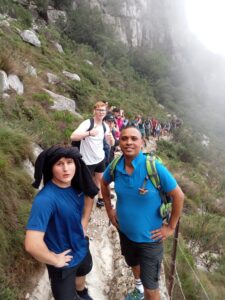 I could not stop thinking about what I heard, it sounded like Spartans marching on to battle to fight at the top. Pictured above next to me is one of the fly Half's he shouted in a very serious voice "keep it together boys let's keep moral boosting" and the group continued to gently nudge eachother with very specific motivational quotes for eachother, to me it sounded personalised. I did not get to see the boys of Calday Grange on the field but leading them on their Table Mountain guided adventure was electric.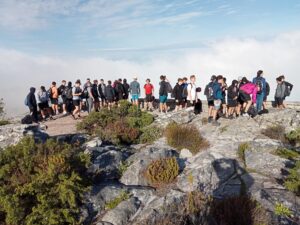 There was a wrist injury and a sprained ankle but none the less when I asked their head coach "is everyone  going" one of the shortest in the group not very bulky but built for speed shouted out loud "No1 is chickening out of taking the apples and pears to the top" the head coach just nodded in agreeance as to say there you have it Christopher.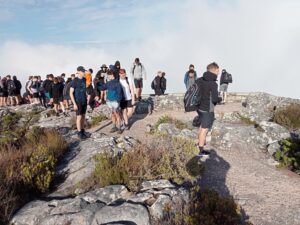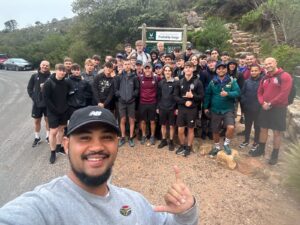 We completed the Table Mountain Platteklip Gorge trail in the rawest form of sheer determination, it took us exactly one and half hours to the top of Table Mountain Platteklip Gorge including STOPS! that my fellow adventurer's is a NEW WORLD RECORD #Caldaygrange #c.s.hiking
The team enjoyed a cable car ride down after enjoying a warm hot chocolate at the Table Mountain Cable Car restaurant.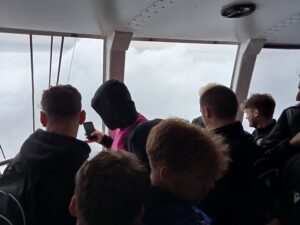 Sutton High all girls school was group 2 all 50 of them. We could not hike up to the top due to strong winds that disabled the operation of the Table Mountain Cable Car.
We opted for the safest and still enjoyable alternative route The Pipe Track, running along the Twelve Apostles flanking Table Mountain over looking  the rich and famous Camps bay.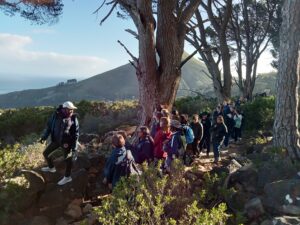 The beauty of the Pipe Track is that its easy accessable and safe walking conditions, the views are jaw dropping looking out at the Atlantic Ocean. Fauna and Flora is always in abundance this allows me to stop and take some time to give little lectures about the Cape Floral kingdoms diversity and most importantly the usage of Fynbos medicinal species and what Fynbos really is. Below is a picture of an Erica Hangertjie / Necklace in full bloom.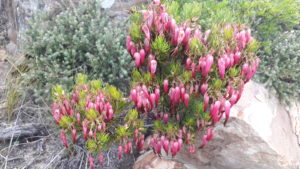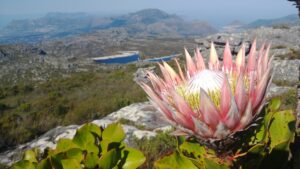 There is great fun to be had besides the fact that these youngsters are here on a travel vacation while interacting with our local South African schools through challenging eachother in various sport activities. The Sutton girls high school group was fabulous and ecstatic about the hike. They the group showed great interest in what I had to share with them not only about the history along our shore line but listened intently when I spoke about the Herbal usages of some Fynbos species. Below is an absolute favourite scheduled as rare the beautiful pink Brachysiphon Fucatus, commonly known as Sissies was also in full bloom and the girls marveled at it, I remember Neve that loved being Infront, politely asked out loud "does it have a special power" I promptly replied, no dear it does not but it makes my insides feel good just looking at it and she quickly said "that's it's power Chris, healthy Brachy"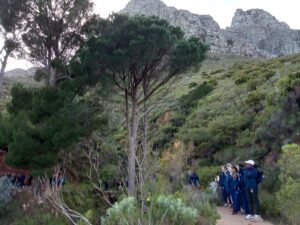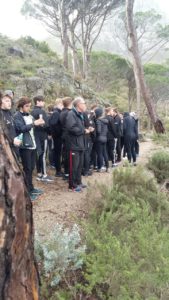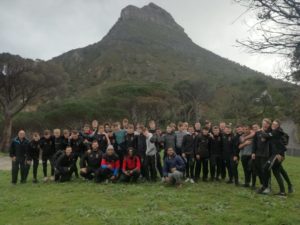 Group Sports Travel is a loyal client and we have established a great bond in ensuring the enjoyment and fun under qualified supervision of these Sports Colleges and High schools coming from Great Britain England to explore our magnificent country.
Please contact our office for further information. Thank you