Exploring The Western Cape Peninsula
Exploring The    Western Cape Peninsula
Exploring the Cape is on many adventurers bucket lists, with so much to see and do; there is something for everyone.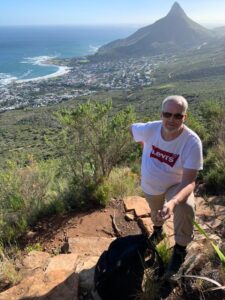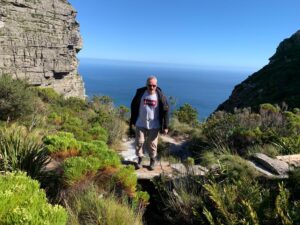 Jorg requested a Guided Hike of Table Mountain and I was glad to oblige. The weather was perfect and the Table was set to enjoy and feast our eyes on the seasonal blossoms and the annual regulars making our Guided Table Mountain adventure spectacular. Jorg had climb Table Mountain before via its most direct route called Platteklip Gorge. This time I wanted to make sure Jorg gets to see the hidden beauty of Table Mountain that many tourists often miss because they think Platteklip Gorge is quick although that is true, you will find the jewel pot of Table Mountain is beyond the suggested Platteklip Gorge Trail.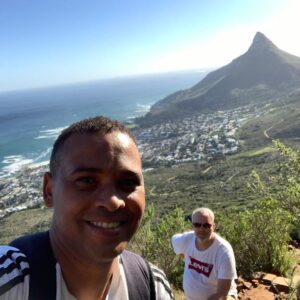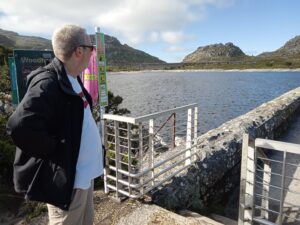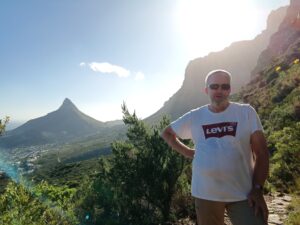 During our Table Mountain hiking adventure Jorg mentioned that he is looking to do some other tours as well and with me being qualified I quickly offered my services for a driver guided tour of the Winelands and the Cape of Good Hope peninsula tour. Our Table Mountain guided hike was splendid, the weather blessed us with amazing views as far as the eye can see. Jorg was pleased and satisfied with my expertise and service that he booked me for a further 3 more days.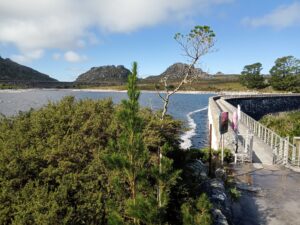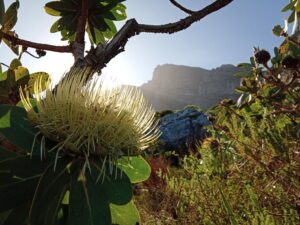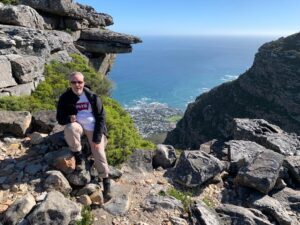 Saturday the 25th June 2022 we spend the morning exploring Woodstock. Jorg was quite surprised by the turn out of people, meeting up and enjoying the atmosphere. With our visit to the Biscuit Mill complete we then continued to explore the rest of Woodstock stopping at Jorg's selected list of street graffiti art he was quite excited in seeing.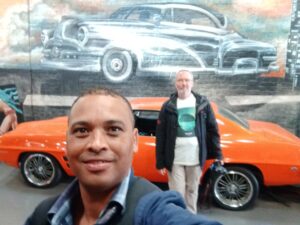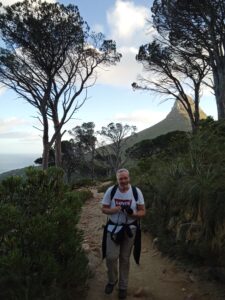 Sunday the 26th June 2022 we explored the Cape Peninsula. Our first stop was Kirstenbosch Botanical Gardens there after we made our way towards Muizenberg before stopping in Kalkbay to have a gander around the harbour and down the main Street to St. James. Lunch was served at Brass Bell pub and restaurant with a fantastic view of False Bay with the soothing sound of the crashing waves. After lunch we headed for the Penguin colony at Boulders beach before making a routine stop in the Cape of Good Hope reserve and Cape Point Lighthouse.
Driving towards Chapman's peak drive for a magnificent sunset overlooking the village of Houtbay and the Atlantic Ocean.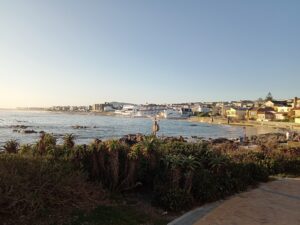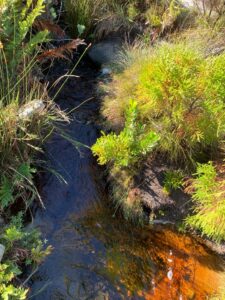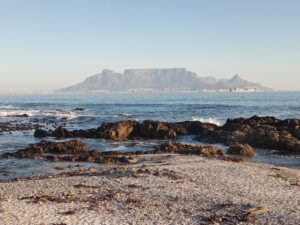 Monday the 27th June 2022 we started nice and early to get to the Winelands and dwelve into the magical wonder of the Stellenbosch and Franschhoek municipalities. With over 500 wineries to choose from in the country it is a given making the choice of which farms to visit is no easy task because as a tour guide I have to best try and match the tourist pallet with wine he will appreciate and by doing this we spend the morning during our drive talking wine styles, viticulture and viniculture and the terrior and how it complements the different wine qualities.