Skeleton Gorge Table Mountain
SKELETON GORGE TABLE MOUNTAIN
3 friends from the UK, Sandy, Jo and Steph, got in touch about climbing Table Mountain via Skeleton Gorge. This is what I love – leading guided hikes in the 7th Wonder of Nature. Skeleton Gorge is a personal favorite, offers welcome shade and is of medium difficulty featuring a fun scramble over rocks and ladders in the gorge. I briefed them to turn up well prepared with food and 2 litres of water per person.
The weather was perfect and we met the entrance of Kirstenbosch Botanical Gardens for introductions and briefing before we set off.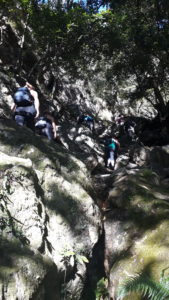 Skeleton Gorge Table Mountain is an absolute joy to hike during the hot summer months, during winter it becomes wet and slippery, but as always we take care navigating to the top of the gorge. It took us under an hour to reach the top. We stopped for a few minutes rest and then made our way to The Beach – one of the dams on Table Mountain. This was a surprise to see and one of the highlights of the trek, especially as the water is stained by the unique fynbos. After our visit to the dam we then head towards the Smuts Track that led us to the highest Point on Table Mountain.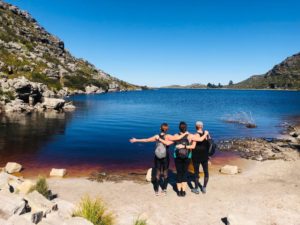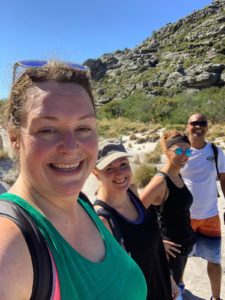 The Smuts Track offers jaw dropping views of the Peninsula at various levels and is a preferred route if you are hiking to Maclears Beacon, the highest point on Table Mountain. After our stop and celebratory photographs and taking in the 360 degree view, we made our way to the cable car station for a celebratory beer before taking the cable car down. I congratulated them on their achievement and thanked them for being part of my first hiking tour up Table Mountain for 2019.