Skeleton Gorge Table Mountain
SKELETON GORGE TABLE MOUNTAIN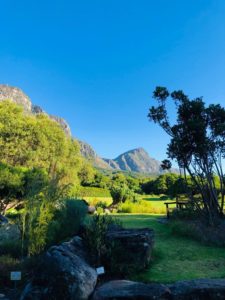 With much anticipation and excitement the 3 friends Sandy, Jo and Steph was determined to climb Skeleton Gorge  Table Mountain. Sandy called me to do what I love, leading guided hikes on the Majestic 7th Wonder of Nature. Well prepared and always a heartwarming gesture that they take what I do seriously, turned up with snacks, fruit and the 2lt of water per person.
The weather was perfect, clear skies and a cool breeze suggested a day of frolicking among prehistoric vegetation and marvel at the wild life. The route had to be the all famous Skeleton Gorge Table Mountain. We met the entrance of Kirstenbosch Botanical Gardens. Quick introduction, briefing and then we set off to tick Table Mountain off these lovely las tres amigas bucket list.  Skeleton Gorge is of course a personal favorite, offers fair shading and is not all that strenuous.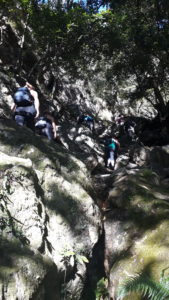 Skeleton Gorge Table Mountain is an absolute joy to hike during the hot summer months, during winter it becomes wet and slippery but as always we take care navigating to the top of the gorge. With in few minutes the ladies were amazed at the stream we pass on our way up not to mention completing the section with ladders which is part of the trail, Jo reckons it  was fun and felt like a mini obstacle course and really made her adventure of Table Mountain with her bff's memorable.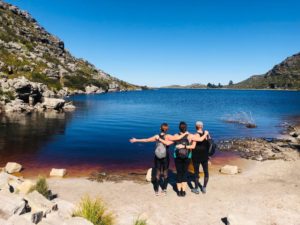 It did not take us that long to reach the top of Skeleton Gorge, well under an hour. We stopped for a few minutes and made our way to ( The Beach ) one of the dams on Table Mountain. here we came across others hikers enjoying themselves by the dam's edge. Steph was moved that so far across the world she comes across her countrymen's artwork. Scottish Stone Manson's were involved with the building of the dams. After our visit to the dams we then head towards the Smuts Track that will lead us to the highest Point on Table Mountain.
The Smuts track offers jaw dropping views of the Peninsula at various levels and is surly the preferred route if you are hiking to Maclears Beacon the highest point on Table Mountain. After our stop and enjoying the 360 degree view, we made our way to the cable car. Here the ladies enjoyed their celebratory drinks. I congratulated them on their achievement and wished them well; and thanked them for being part of my first hiking tour up Table Mountain for 2019.
It was great fun and a pleasure to have been the guide on this Table Mountain adventure. I am humbled and grateful  to start 2019 off on a healthy and positive.