Hiking #TableMountain Winter Wonderland
Hiking #TableMountain Winter Wonderland

Hiking #TableMountain Winter Wonderland is most certainly an adventure beyond words could describe. Our #TableMountain educational Adventure was off to an amazing start. My guests was German Nationals doing their part to support the struggling Tourism Industry in Cape Town South Africa. With a quick introduction and briefing we slowly made our way up the Contour path to the top of the jeep track. Hiking #TableMountain is equally as amazing in winter as it is in summer hence the common term Hiking #TableMountain Winter Wonderland.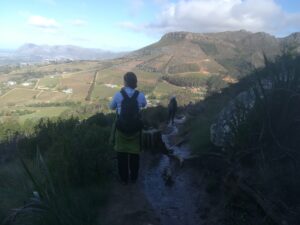 The breathtaking view of the Historic Constantia Winelands flowing from the slopes of Vlakkenberg. The distinctive Protea Silver Trees at the top of the vineyards is constantly giving a shimmering silver as it is pushed around by the wind.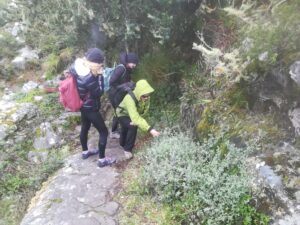 As this was not only a leisurely and funfilled experience, I quickly pointed out the structure of the different species of the World Famous Fynbos and Midicinal species found among it. Every one had questions that I quickly answered using the touch and smell experience including the wealth of knowledge just begging to be shared, all in an orderly fashion. It was comforting to see their interest and concern shown towards myself and our Beautiful #TableMountain.
Throughout the trail we saw the flowering Bells Kruie better known as Marsh Daisy, the Khoisan used it for opening up the chest and nostrils, they would crush the leaves and it would release a pungent scent equal to that of Vicks Vaporub. upon arrival at the dams on Table Mountain I explained the history behind it and pointing out the obvious Scottish Stonemasonry Dam building skills. We also had a quick peek inside the Waterworks Museum through the windows from the outside, due to weather conditions it was closed. The youngest was quite surprised about the Steam train on the mountain "How did it get here"? and She was easily convinced when mentioned the Old Cable Car ruins that brought material up to the dams and she responded "ahaaa"
Soon after our visit to the Dam's we made our way back to the Car Park VIA the Service Jeep Track. What I love about this Hike is that it offers very nice views and amazing flora and not forgetting the history it boasts. The view of the Constantia Winelands eases you down gently back to civilisation feeling energised and refreshed for finishing a memorable experience. Another Successful Table Mountain hike completed.